Working Principle of Capacitive Proximity Sensor
The Capacitive Proximity Sensor consists a high frequency oscillator along with a sensing surface formed by two metal electrodes as a result oscillator circuit starts oscillating and change the output state of the sensor when it reaches certain amplitude. As the object moves away from the sensors, the oscillator's amplitude decreases switching the sensor back to its initial state.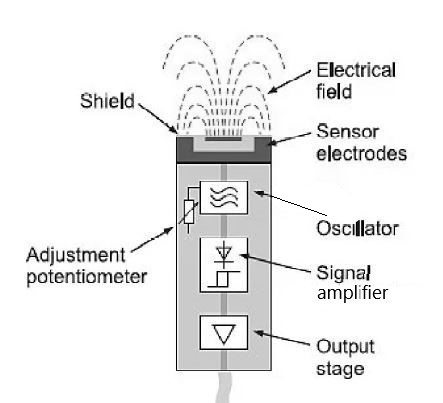 A typical sensing range for Capacitive Proximity sensors is from a few millimeters up to about 1 inch, where capacitive sensors really excels, however is in applications where they must detect objects through some kind of material such as a bag, bunch of paper, liquid, powder is in density, solid material as well as Metal of all kinds.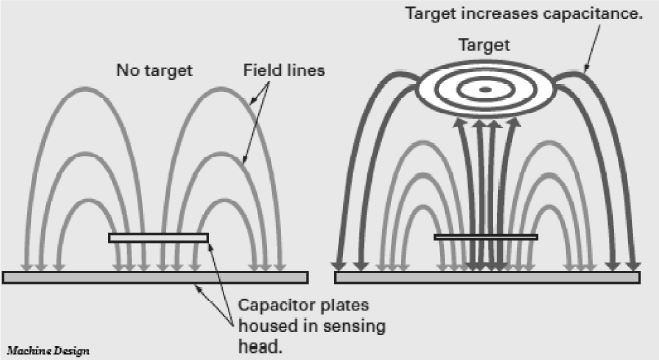 The size of the active surface of the sensor – the larger the sensing face the longer the sensing distance
The capacitive material properties of the target object, also referred to as the dielectric constant – the higher the constant the longer the sensing distance
The surface area of the target object to be sensed – the larger the surface area the longer the sensing distance
Advantages of Capacitive proximity sensors
Contactless detection
A wide array of materials can detect
Able to detect objects through non-metallic walls with its wide sensitivity band
Well-suited to be used in an industrial environment
Contains potentiometer that allows users to adjust sensor sensitivity, such that only wanted objects will be sensed
No moving parts, ensuring a longer service life